WIN: King Flashypants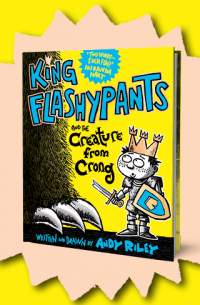 We have three copies of King Flashypants & The Evil Emperor and King Flashypants & the Creature from Crong to give away. Just fill out the form below to be in to win both books!
King Flashypants and the Creature from Crong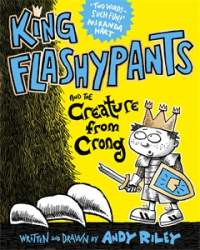 When rumours of a huge and terrifying monster called the Gizimoth reach Edwinland, King Edwin Flashypants decides that, to be a proper king, he needs to go and fight it.
Meanwhile, Emperor Nurbison has had a similar idea, but he has a much sneakier plan for what he can do with the Gizimoth. And it involves squishing Edwinland.
Hold tight for another thrilling Flashypants adventure, with jousting, vegetables, fire-breathing toads and plenty of FOO-HOO-HOOing.
King Flashypants and the Evil Emperor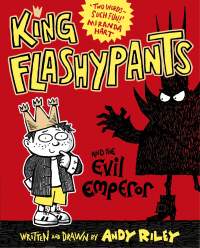 Edwin isn't an ordinary boy. He is a king, with a throne, and his own suit of armour and a castle with secret passages and everything.'
Every Friday, King Edwin spends all his money on chocolate for the peasants. But when the money runs out, Edwin finds himself in a fix. Cue the arrival of evil Emperor Nurbison, in his pointy-collared black cloak and accompanied by scary striding music.
He has had his eye on Edwin's kingdom for a while and intends to use the peasants' unhappiness to his advantage!
When the emperor builds a fake dragon out of a cow, green crepe paper, furry monster novelty slippers and two birthday cake candles, to scare the peasants, Edwin knows it's time to come up with the first sneaky plan he's ever had in his life.
King Flashypants is the insanely funny children's series from Emmy award-winning comedy writer and cartoonist Andy Riley. Make your own King Flashypants crown using THIS template!
1. Entry into this promotion is deemed acceptance of these Conditions of Entry. Only entries complying with all the Terms and Conditions are valid.
2. In order to be eligible to enter the 'Win: King Flashypants' competition, a participant must be a New Zealand resident and must be over the age of 18 as at 13/02/17. The prize winner may be asked for proof of age.
3. The Promotional Period commences on 13/02/2017 and closes 13/03/2017. All entries must be received by close of business (5pm) on 13/03/2017. The prize will be drawn and the winner notified by no later than 20/02/2017. The winner will be notified by email with the email address provided in the first instance. Unsuccessful applicants will not be notified.
4. There will be three (3) prizes, each composed of one (1) copy of "King Flashypants & The Evil Emperor" and one (1) copy of "King Flashypants & The Creature from Crong", by Andy Riley.
5. All entries become the property of Hachette New Zealand Ltd and following the draw will be destroyed in accordance with the Privacy Act 1993 unless entrant has opted in to receive updates on book information and promotion. Should the entrant 'opt in', the entrant's contact information will only be used to contact them for the promotional purposes agreed, and will not be shared with outside companies.
6. Hachette New Zealand Ltd (the 'Promoter') and its employees and their immediate families are ineligible to enter. The Promoter reserves the right to disqualify any person for tampering with the entry process. The Promoter of this competition is Hachette NZ Limited, Level 2, 23 O'Connell Street, Auckland 1010.
Close
Popular Posts