Mar 25
10 a Day the Easy Way

Did you know that 5 servings of fruit and vegetables a day is the minimum we should be eating? We should be aiming for 10 a day, which sounds like a lot, but it's actually not. James Wong, author of How to Eat Better, gives you tips and tricks to achieve this in his latest book 10 A Day The Easy Way.
About 10 A Day The Easy Way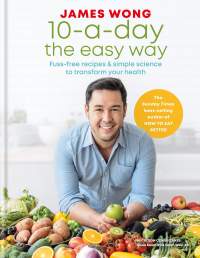 Eating healthily can be a confusing business. But what if there were a single, simple change you could make that would transform your health, without forcing you to give up the foods you love?
According to a growing body of international studies, little tweaks to your everyday diet to get you beyond the 5-a-day minimum and towards 10-a-day could slash your risk of developing the biggest diseases to affect the Western world. In fact, experts agree that simply eating more fruit and veg is the single most important dietary change you can do for your health!
As only 3 out of 10 people are even achieving the minimum amount of fruit and veg, this book aims to make getting there easy. No gimmicks, no 'banned' foods, no miserly portion sizes. Just 80 of the classic recipes you know and love made healthier (and tastier) by simply upping the amount of fruit and veg in them, all backed by the best science available.
About the authors:
James Wong is a Kew-trained botanist, science writer and broadcaster based in London. Graduating with a Master of Science degree in Ethnobotany in 2006, he pursued his key research interests of under-utilized crop species and traditional food systems through field work in rural Ecuador, Java and southern China.
He is the author of the best-selling books Grow Your Own Drugs, Homegrown Revolution and, for Mitchell Beazley, RHS Grow for Flavour (more than 64,000 copies sold) and How to Eat Better (more than 85,000 copies sold). He has presented BBC2's award-winning series Grow Your Own Drugs and co-presented, with Dr Michael Mosley, The Secrets of Your Food - a major BBC series on the science of food. He has a column in the Observer magazine.
With his obsession for food almost eclipsing his love of plants, James's small London garden serves as a testing station for all manner of crops from around the world.
Nutritional Consultants: Rosie Saunt (RD) and Helen West (RD) of The Rooted Project:
Nutrition and wellness is a booming industry with a critical problem at its core: anyone can call themselves a guru and dole out advice to the public. The Rooted Project is an award-winning enterprise founded by registered dietitians Rosie Saunt and Helen West. They love food but hate nutri-nonsense and have made it their mission to empower people to choose what goes on their plates with the latest science-backed information.
Triple Berry Hotcakes Recipe
Serves 2 | 4 portions per serving
Prep time 5 minutes
Cook time 8 minutes
4 large eggs
200g self-raising white flour
1 tsp mixed spice
pinch of salt
300g strawberries (fresh or frozen and defrosted)
butter, for frying
150g blueberries (fresh or frozen and defrosted)
To serve
150g fresh mixed berries
4 tbsp Greek yogurt
1/2 tsp icing sugar
freeze-dried raspberries, for sprinkling
Method
BLEND all the ingredients except the blueberries together in a food processor to form a batter.
HEAT a little butter in a large frying pan over a medium heat. Pour in 2 tablespoons of the batter per pancake, well spaced apart and swirling the pan around so each pancake spreads out to the size of a CD. Scatter 1 tablespoon of the blueberries over the still-liquid surf ace of the pancake.
COOK for 1 minute on each side, then remove from the pan and keep warm until you have used up all the batter to make 12 pancakes.
DIVIDE the mixed berries and yogurt among the pancakes, dust each serving with icing sugar and sprinkle with freeze-dried raspberries.
FROZEN BERRIES are as nutritious as fresh, yet they can be less than half the price – especially in winter. And, frankly, if you are using them in this batter, no one will ever tell the difference. I do love a nutrition cheat.
Get Your Copy of 10 A Day the Easy Way now:
Popular Posts