An Evening With Amanda Palmer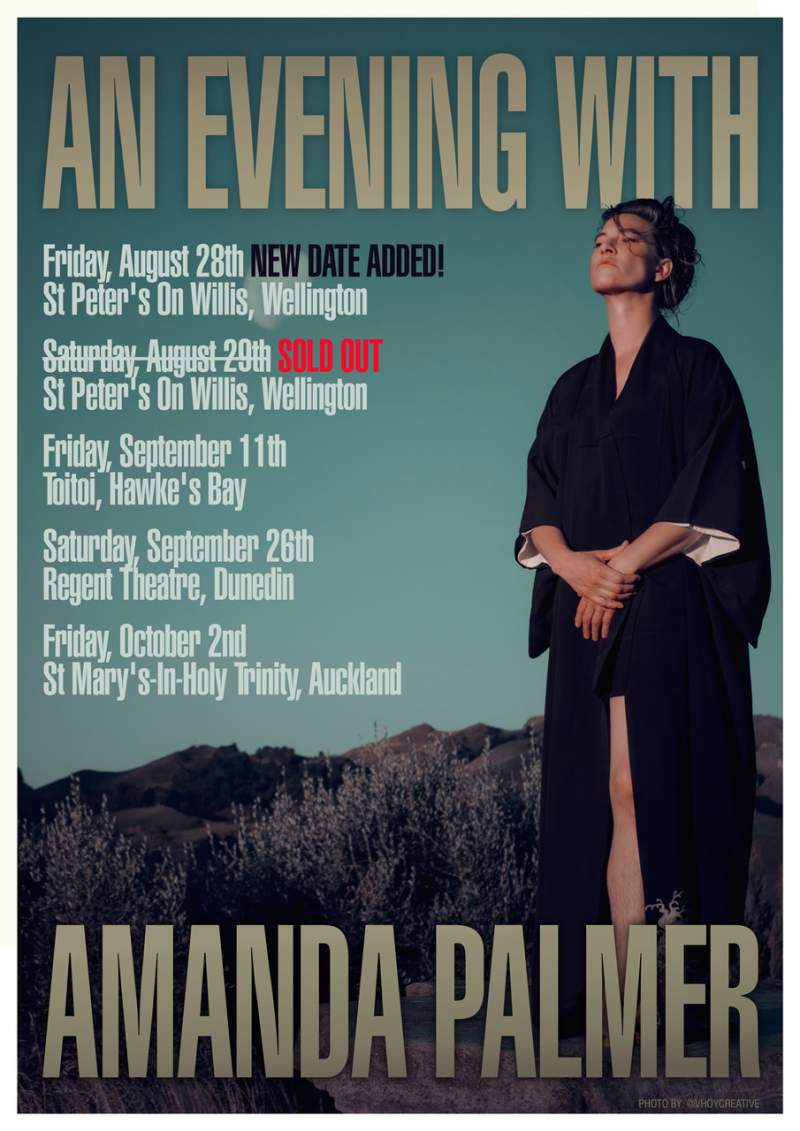 Caught in Hawke's Bay for the outbreak of Covid, and currently residing in Hastings until the smoke clears in her hometown of New York, Amanda Palmer, the front-woman of the internationally acclaimed punk cabaret duo The Dresden Dolls presents a very special show at The Opera House.Provocative, irreverent, and wildly creative, Amanda Palmer is a fearless singer, songwriter, playwright and audaciously expressive pianist who simultaneously embraces – and explodes – traditional frameworks of music, audience and art.The show itself will feature Palmer performing stories with no band accompaniment, performing material from her critically-hailed global tour "There Will Be No Intermission", alongside old favorites from The Dresden Dolls and, surprise!, new songs freshly-written during Level Four lockdown right here in Hawke's Bay. Expect a night of graphic, honest, funny storytelling and very human and vulnerable songcraft.
"I wasn't supposed to be touring, since I just finished up a whole year on the road. But I didn't expect to be waylaid in Aotearoa for five months, either. The fact that I can perform on a real stage in front of real-live human beings is not something I am taking for granted, and I expect these shows will be incredibly powerful."
Friday August 28th (NEW DATE ADDED!)
St Peter's on Willis, Wellington
Buy tickets
Saturday August 29th (SOLD OUT)
St Peter's on Willis, Wellington
Friday September 11th
Toitoi, Hawke's Bay
Buy tickets
Saturday September 26th
Regent Theatre, Dunedin
Buy tickets
Friday, October 2nd
St Mary's-In-Holy Trinity, Auckland
Buy tickets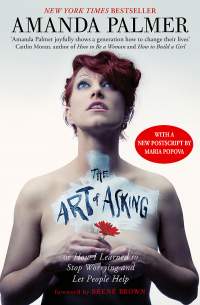 The Art of Asking by Amanda Palmer
Imagine standing on a box in the middle of a busy city, dressed as a white-faced bride, and silently using your eyes to ask people for money. Or touring Europe in a punk cabaret band, and finding a place to sleep each night by reaching out to strangers on Twitter. For Amanda Palmer, actions like these have gone beyond satisfying her basic needs for food and shelter - they've taught her how to turn strangers into friends, build communities, and discover her own giving impulses. And because she had learned how to ask, she was able to go to the world to ask for the money to make a new album and tour with it, and to raise over a million dollars in a month.
In the New York Times bestseller The Art of Asking, Palmer expands upon her popular TED talk to reveal how ordinary people, those of us without thousands of Twitter followers and adoring fans, can use these same principles in our own lives.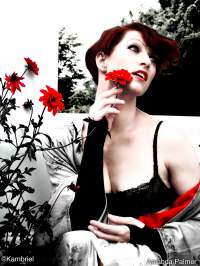 Amanda Palmer is a world-renowned singer, songwriter, activist, director, and blogger who first came to prominence as one half of the internationally acclaimed punk cabaret duo The Dresden Dolls.
She is a fellow at the Berkman Institute for Internet & Society at Harvard University and has shown her underwear on Australian television.
Palmer's TED Talk, 'The Art of Asking,' which she presented at a 2013 TED conference, has been viewed at least 8 million times around the world. You can visit her website and blog at www.AmandaPalmer.net
Popular Posts