Mar 28
Banana, Coffee & Chocolate Chunk Cake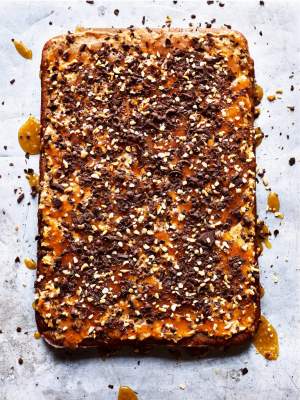 This indulgent Banana, Coffee & Chocolate Chunk Cake has a salted caramel and peanut butter sundae top, satisfying any sweet tooth!
SERVES 10–12
Ingredients:
3 large eggs
3 very ripe large bananas, mashed to a fine purée
150g caster sugar
2 teaspoons vanilla bean paste
1 heaped teaspoon ground cinnamon
2 x 25ml shots of espresso, cooled
200g plain flour
100g ground almonds
1 teaspoon baking powder
200ml olive oil, plus extra for greasing
100g dark chocolate chunks
FOR THE TOPPING
340g smooth or crunchy peanut butter, at room temperature
200g salted caramel spread
100g dark chocolate, shaved or coarsely grated
handful of chopped nuts (optional)
Method:
1. Preheat the oven to 180°C (160°C fan). Select a rectangular cake tin measuring approximately 34 x 23cm. Grease the tin and line it with baking paper.
2. Beat the eggs, bananas and sugar together, then add the vanilla paste, cinnamon and coffee and blend until the mixture is evenly combined.
3.Add the flour, almonds, baking powder and olive oil and mix well, then stir in the chocolate chunks.
4. When the mixture is smooth, pour it into the prepared cake tin and bake for 45–55 minutes, or until the sponge is golden on top and a skewer inserted into the centre of the cake comes out clean. Leave to cool in the tin.
5. Spread the peanut butter across the surface of the cooled cake. Drizzle over the salted caramel, then cover with the grated chocolate. Refrigerate for 1 hour.
6. Once chilled, sprinkle over the chopped nuts, if using. To serve, remove the cake from the tin and cut into slices. I sometimes like to add squirty cream on top, too.
Popular Posts