Sep 06
Be in to WIN with Shhh! Don't Wake the Baby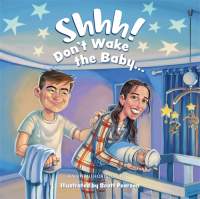 The baby is asleep and all is well. All is quiet until...
Along comes a crowd of rowdy sports fans, paparazzi, politicians and many more. "Shhh! Don't wake the baby!"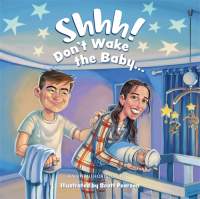 Check out a sneak peek of this special book.
Colouring Competiton
Download our colouring in sheets to enter the 'Shhh! Don't Wake the Baby' colouring competition!
1. Entry into this promotion is deemed acceptance of these Conditions of Entry. Only entries complying with all the Terms and Conditions are valid.
2. In order to be eligible to enter the 'Colour this picture and be in to win' competition, a participant must be a New Zealand resident and must be under the age of 10 as at 14/10/18. Each prize winner may be asked for proof of age.
3. The Promotional Period commences on 11/09/2018 and closes 14/10/2018. All entries must be received by close of business (5pm) on 14/10/2018. The prizes will be awarded and the winner notified by no later than 08/11/2018. The winner will be notified by their guardian's email with the email address provided in the first instance. Unsuccessful applicants will not be notified. The Judge's decision is final and no correspondence will be entered into.
4. There will be two (2) age sections and one (1) prize will be awarded to one (1) winner in each age section for each colouring sheet. The age sections are under 5 years and 6-10 years. There will be a total of four (4) winners.
5. Each prize is composed of pack made up of age appropriate Hachette NZ books. The winner is not able to choose which books they win.
6.All entries become the property of Hachette New Zealand Ltd and following the draw will be destroyed in accordance with the Privacy Act 1993 unless entrant has opted in to receive updates on book information and promotion. Should the entrant 'opt in', the entrant's contact information will only be used to contact them for the promotional purposes agreed, and will not be shared with outside companies.
7.The Promoter reserves the right to disqualify any person for tampering with the entry process. The Promoter of this competition is Hachette NZ Limited, Level 2, 23 O'Connell Street, Auckland 1010.
8.The Promoter reserves the right to amend these terms and conditions at any time and without any notice.
Close
Send your finest colouring to the below address and you'll be in to win a book prize pack valued at $100! There are four to be won!
Hachette New Zealand
PO Box 3255
Shortland St
Auckland 1010
Popular Posts