Be in to WIN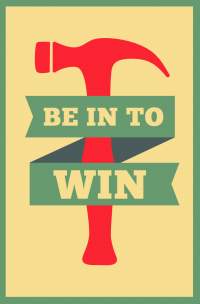 Is there something stopping you from staying home and reading? We're giving away a $300 DIY voucher to give you a helping hand with something in your house.
To be in to WIN, simply purchase one these books and complete the entry form at the bottom of the page.
Dad by my Side
Soosh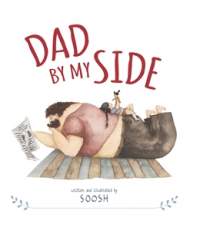 A heartwarming celebration of the special relationship between a father and daughter from Instagram sensation Soosh.
Whether they're playing make-believe, making you smile, or scaring off monsters under the bed, dads are always there when you need them. Debut picture book artist Soosh celebrates fathers with a gorgeously illustrated and moving story about the parent-child bond.
When Soosh first posted her initial series of images of a larger-than-life father and his adorable daughter on Instagram, fans from across the world immediately took notice with over 2 million views in a single week.
These illustrations now come together in a universally relatable story of familial love for parents and children to share.
Early Riser
Jasper Fforde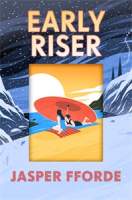 Imagine a world where all humans must hibernate through a brutally cold winter, their bodies dangerously close to death as they enter an ultra-low metabolic state of utterly dreamless sleep. All humans, that is, apart from the Winter Consuls, a group of officers who diligently watch over the vulnerable sleeping citizens.
Charlie Worthing is a novice, chosen by a highflying hero Winter Consul to accompany him to the Douzey, a remote sector in the middle of Wales, to investigate a dream which is somehow spreading amongst those in the hibernational state, causing paranoia, hallucination and a psychotic episode that can end in murder.
Worthing has been trained to deal with Tricksy Nightwalkers whose consciousness has been eroded by hibernation, leaving only one or two skills and an incredible hunger; he's been trained to stay alive through the bleakest and loneliest of winters - but he is in no way prepared for what awaits him in Sector Twelve. There are no heroes in Winter, Worthing has been told. And he's about to find out why...
Kill For Me
Tom Wood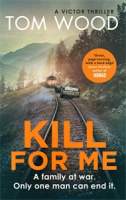 'Terrifically fun and explosively propulsive' - Gregg Hurwitz, author of Orphan X
For years, two sisters have vied for the turf of their dead crime boss father. Across the streets of Guatemala City, bodies have piled up; the US Drug Enforcement Agency, operating far from its own borders, is powerless to stop the fighting.
But now one sister has a weapon that could finally win the war - a cold, amoral hitman known, fittingly, as 'Victor'. Freed from previous employers the CIA and MI6, Victor is a killer for-hire whose sense of self-preservation trumps all else. Yet as betrayal and counter-betrayal unspool in the vicious family feud, Victor finds himself at the centre of a storm even he could be powerless to stop.
Game Changers
João Medeiros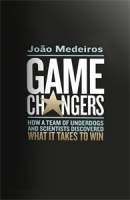 At the 1996 Atlanta Olympics, Great Britain ranked thirty-sixth in the medals table, finishing below countries like Algeria, Belgium and Kazakhstan. It was their worst ever record, a dismal performance labelled a national disgrace.
But then something happened. In Sydney in 2000 and then Athens in 2004, Team GB achieved a much more respectable tenth place. By 2008, in Beijing, they finished fourth with forty-seven medals. How had they so convincingly reversed their fortunes?
In Game Changers we meet the incredible coaches who rethink how sport is played, how it is performed, how people train and how people coach. In Liverpool in the late 1980s, a motley group - a mathematician, a physiologist, a psychologist and a former Olympic basketball player - began to pioneer ways of tracking performance. Over the decades that followed, performance analysis came of age. Incredible technological leaps have led to devices such as the OptimEye S5, developed by two Australian mechanical engineers to combine fifteen different sensors which monitor every aspect of athletic performance. These advances are now the gold standard in sport: providing the world's best athletes with a competitive edge that has been crucial to some of the most extraordinary victories of all time.
João Medeiros's fascinating, insightful account takes us behind the scenes to tell the stories of this sporting revolution and disclose its secrets. We'll find out how the England rugby team used match analysis software and a vision coach to win their first ever World Cup, how a middling football team with no budget and older players found extraordinary success in the best football league in the world using tactics based purely on statistics, how Britain transformed itself from one of the worst to the world's best cycling nation. And we learn too how surgeons, police forces, dancers and business leaders are applying these skills to all aspects of everyone's lives.
Fifty Things that Made the Modern Economy
Tim Harford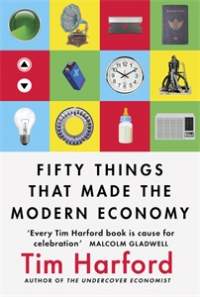 Who thought up paper money? How did the contraceptive pill change the face of the legal profession? Why was the horse collar as important for human progress as the steam engine? How did the humble spreadsheet turn the world of finance upside-down?
The world economy defies comprehension. A continuously-changing system of immense complexity, it offers over ten billion distinct products and services, doubles in size every fifteen years, and links almost every one of the planet's seven billion people. It delivers astonishing luxury to hundreds of millions. It also leaves hundreds of millions behind, puts tremendous strains on the ecosystem, and has an alarming habit of stalling. Nobody is in charge of it. Indeed, no individual understands more than a fraction of what's going on.
How can we make sense of this bewildering system on which our lives depend?
From the tally-stick to Bitcoin, the canal lock to the jumbo jet, each invention in Tim Harford's fascinating new book has its own curious, surprising and memorable story, a vignette against a grand backdrop. Step by step, readers will start to understand where we are, how we got here, and where we might be going next.
Hidden connections will be laid bare: how the barcode undermined family corner shops; why the gramophone widened inequality; how barbed wire shaped America. We'll meet the characters who developed some of these inventions, profited from them, or were ruined by them. We'll trace the economic principles that help to explain their transformative effects. And we'll ask what lessons we can learn to make wise use of future inventions, in a world where the pace of innovation will only accelerate.
1. Entry into this promotion is deemed acceptance of these Conditions of Entry. Only entries complying with all the Terms and Conditions are valid.
2. Eligible books are Dad By My Side, Soosh (9780734418746), Early Riser, Jasper Fforde (9781444763591), Kill for Me, Tom Wood (9780751565706), Game Changers, Joao Medeiros (9781408708453) and Fifty Things that Made the Modern Economy (9780349142630).
2. In order to be eligible to enter the 'DIY Competition', a participant must be a New Zealand resident, have purchased an elible book and must be over the age of 18 as at 31/07/18. The prize winner may be asked for proof of age.
3.The Promotional Period commences on 31/07/2018 and closes 31/08/2018. All entries must be received by close of business (5pm) on 31/09/2018. The prize will be drawn and the winner notified by no later than 10/10/2018. The winner will be notified by email with the email address provided in the first instance. Unsuccessful applicants will not be notified.
4.There will be one (1) prize composed of one (1) $300 Gift Card to the recipients choice of Mitre 10 or Bunnings. Gift Card Ts and Cs apply.
5. All entries become the property of Hachette New Zealand Ltd and following the draw will be destroyed in accordance with the Privacy Act 1993 unless entrant has opted in to receive updates on book information and promotion. Should the entrant 'opt in', the entrant's contact information will only be used to contact them for the promotional purposes agreed, and will not be shared with outside companies.
7.Hachette New Zealand Ltd (the 'Promoter') and its employees and their immediate families are ineligible to enter. The Promoter reserves the right to disqualify any person for tampering with the entry process. The Promoter of this competition is Hachette NZ Limited, Level 2, 23 O'Connell Street, Auckland 1010.
Close
Complete the form below to enter the draw. Or, if you are not able to to upload your receipt, please post a copy of your receipt to:
DIY Competition
Hachette NZ
PO Box 3255
Shortland Street
Auckland 1140
Popular Posts