Aug 17
Black Velvet Cake from Gatherings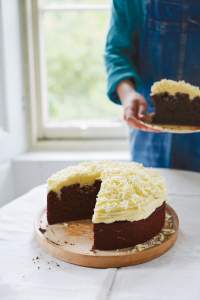 Take the effort out of entertaining with Gatherings - a collection of delicious recipes, such as this one, to enjoy cooking and eating.
With the added ingredient of a half pint of Guinness, this glorious chocolate cake truly explores the depths and taste of chocolate. Rich and indulgent, it is a cake for any special occasion . . . or maybe just a Sunday afternoon.
SERVES 8–10
Ingredients
250g unsalted butter, plus extra for greasing
300ml Guinness
100g dark chocolate (minimum 54% cocoa solids)
50g cocoa powder
300g self-raising flour
300g caster sugar
2 eggs
100ml double cream
1 teaspoon vanilla bean paste
For the icing and decoration
150g unsalted butter, softened
150g icing sugar
200g cream cheese
50g good-quality white chocolate, curls or grated (optional)
1. Preheat the oven to 180ºC. Grease a 20cm round loose-bottomed cake tin and line it with baking paper.
2. Put the butter, Guinness, chocolate and cocoa into a large saucepan set over a low heat until the butter and chocolate have just melted and no more – do not let the mixture boil. Then stir in the flour and caster sugar.
3.Once combined, add the eggs, cream and vanilla.
4.Pour the batter into your prepared tin and bake for 45–50 minutes or until a knife inserted into the centre of the cake comes out clean.
5. Allow to cool in the tin for 15 minutes, then transfer to a wire rack and leave to cool completely.
To make the icing
1. Beat the butter and icing sugar together in a bowl until pale and fluffy.
2. Add the cream cheese and beat again for 1 minute.
3. Cut the top of the cake to level it if required, then spoon the icing on to the top of the cake and spread it across the surface to the edges.
4. Decorate with the white chocolate, if you like. And enjoy!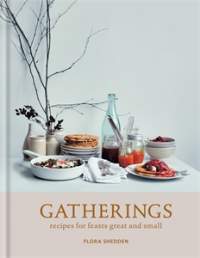 Gatherings by Flora Sheddon is available now! Find out more
Popular Posts