Mar 30
Book Launch with Rick Gekoski
Join Rick Gekoski for the launch of DARKE MATTER
6pm, Wednesday 7th April
Druart House
51 Druart Road, Havelock North
All Welcome! Come along and enjoy some wine and nibbles while listening to Rick talk about his latest book DARKE MATTER.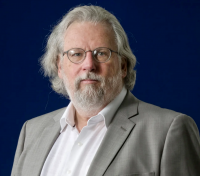 Rick Gekoski
Rick Gekoski came from his native America to do a D.Phil at Oxford, and went on to teach English at the University of Warwick. In 1985 he became a full-time rare book dealer, specialising in important twentieth-century first editions and manuscripts. He lives in Salisbury and spends time each year in New Zealand.
Darke Matter
James Darke is dreading the first family Christmas without his wife Suzy. Engulfed by grief, his grudging preparations are interrupted by a persistent knock at the door. Questions about the circumstances of his wife's death force him to confront the outside world and what really happened to her.
Isolated, angry and diminished, James soon faces a crisis both legal and psychological. It will test his resolve and threaten his freedom.
Darke Matter is a brilliant, mordant examination of the nature and obligations of love. Both immensely sad and extremely funny, the story wrestles with one of the great moral issues of our time.
Popular Posts