News & Events
From author tours to office baking competitions, this is where you'll find everything that is new, exciting and interesting in the world of Hachette New Zealand.
Filter by Latest News Latest Events All posts
You are currently browsing the category: News (Show all)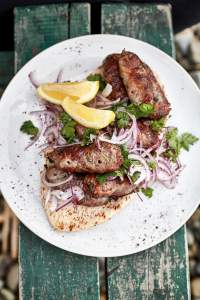 From Selin Kiazim's gorgeus book Oklava, comes this unique recipe for Cypriot kebab:Şeftali was probably one of the first things I planned to put on the menu at Oklava, first because it's a Cypriot kebab, and second because it's my favourite! You must eat it with an onion salad, lavash or Turkish bread to absorb the juices, and lots of lemon. I have given specific measurements for the onion and parsley because for me it is very important to have the correct quantities, and every bunch of parsley or onion weighs a different amount.
Next page

Viewing page 1 of 3