Jul 18
Enid Blyton for Everyone!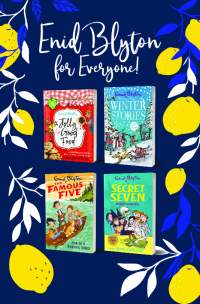 Enid Blyton's books have been a right of passage for generations of children. She wrote over 600 books and hundreds of short stories, including favourites such as The Famous Five,The Secret Seven, The Magic Faraway Tree, Malory Towers and Noddy.
Share the magic of Enid Blyton with the children in your life. No matter what their age, or their interests, there is bound to be a story that will capture their imagination.
Jolly Good Food
Delicious and easy recipes, inspired by the beloved stories by Enid Blyton. Bake your own pop-cakes and google buns, and wash them down with homemade ginger beer!
Have you ever dreamed of having picnics with the Famous Five, midnight feasts with the Malory Towers girls or party teas with the Folk of the Faraway Tree? With this cookbook, inspired by Enid Blyton's stories, you can! Packed full of yummy recipes, lively artwork and extracts from Enid Blyton's stories, this cookbook will inspire children - and the whole family - to get busy in the kitchen. It's the perfect way to share the pleasure of making and eating food with your child. There are 42 exciting new recipes designed by top chef Allegra McEvedy, with fabulous illustrations and glorious food photography too.
Allegra McEvedy MBE is a highly respected chef, writer and broadcaster whose philosophy is that good food should be available to everyone. In 2004 she co-founded the multi-award winning healthy fast food chain LEON and recently re-opened Albertine, a wine bar/restaurant that her mother set up in the 70s. Allegra was a judge on Junior Bake Off and has presented several TV series across various channels. A longstanding fan of Enid Blyton since the age of 7, she has enjoyed revisiting Enid's complete works to give a proper account of food in Blyton's era.
Winter Stories
Get ready for snowball fights and sleigh rides in this collection of thirty classic short stories from Enid Blyton, celebrating the magic and excitement of winter.
These fun, entertaining stories are ideal for newly confident readers and are the perfect length for reading aloud at bedtime or in the classroom.
Enid Blyton remains one of Britain's favourite children's authors and her bumper short story collections are perfect for introducing her to the latest generation of readers.
The Famous Five Series
Julian, Dick, Anne, George and Timmy the dog find excitement and adventure wherever they go in Enid Blyton's most popular series! Have you read all the books in the series?
The Secret Seven Series
Solve the mystery with the Secret Seven - everyone's favourite detective club! These timeless stories are perfect for young fans of mystery, adventure or detective series. Have you read them all?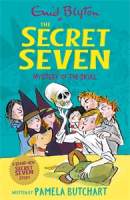 Plus there is now a brand-new, action-packed Secret Seven adventure by prizewinning author Pamela Butchart. The Mystery of the Skull is set in the same world and time as the original stories, this fantastic new mystery satisfyingly extends the series for fans old and new.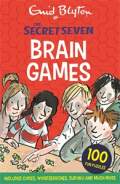 When Peter discovers an old skull hidden in his bedroom, it's time for an urgent meeting of the Secret Seven. Setting off to investigate, the friends see a gigantic hole in the grounds of a local hotel. Could there be any connection between the two strange events? The Secret Seven are determined to solve the mystery. Join the Secret Seven for more mystery, excitement, friendship and FUN than ever before!
Also look out for Secret Seven Brain Games - a fun and tricky puzzle book!
Pamela Butchart is the bestselling and award-winning author of the Baby Aliens young fiction series, for which she has won the Blue Peter Best Book Award 2015 for The Spy Who Loved School Dinners and the Children's Book Award 2016 for My Head Teacher is a Vampire Rat. She has also been shortlisted for the Laugh Out Loud Book Award (Lollies) and is one of the fasted growing children's fiction authors in the UK.
Popular Posts