Apr 12
Killer Reads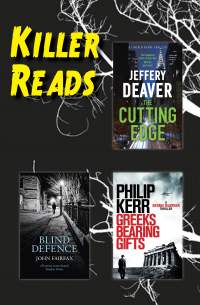 A mystery with roots in World War Two, a murdered woman who is much more than she seems and a serial killer targeting newly engaged couples.
If you like books that are sure to keep you on the edge of your seat, then we've got three KILLER reads for you. Check them out below.
Greeks Bearing Gifts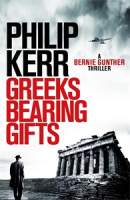 Philip Kerr
1957, Munich. Bernie Gunther's latest move in a long string of varied careers sees him working for an insurance company. It makes a kind of sense: both cops and insurance companies have a vested interest in figuring out when people are lying to them, and Bernie has a lifetime of experience to call on.
Sent to Athens to investigate a claim from a fellow German for a ship that has sunk, Bernie takes an instant dislike to the claimant. When he discovers the ship in question once belonged to a Greek Jew deported to Auschwitz, he is convinced the sinking was no accident but an avenging arson attack. Then the claimant is found dead, shot through both eyes. It's a win for Bernie's employers at least: no one to pay out to even if the claim is genuine. But who is behind the murder, and why?
Strong-armed into helping the Greek police with their investigation, Bernie is once again drawn inexorably back to the dark history of the Second World War, and the deportation of the Jews of Salonika - now Thessaloniki. As Europe seems ready to move on to a more united future with Germany as a partner rather than an enemy, at least one person in Greece is ready neither to forgive nor forget. And, deep down, Bernie thinks they may have a point.
'One of the greatest anti-heroes ever written' LEE CHILD
Blind Defence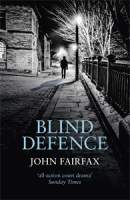 John Fairfax
She was found hanging in a dingy London bedsit with a blood orange in her mouth. Diane Heybridge, a young woman without a past or much of a future, has captured in death the compassion denied her in life.
For the prosecution, this seeming suicide is nothing more than a bungled killing and a disgusted public looks to Court 2 of the Old Bailey for justice. Her callous, jilted partner Brent Stainsby stands accused of her murder and he's turned to the maverick legal team William Benson and Tess de Vere to defend him.
However, as the trial unfolds it soon becomes clear that there is far more to Diane Heybridge than meets the eye. She wasn't the weak and downtrodden victim now being presented to the jury. She was capable of a sophisticated form of vengeance. By the same token, Brent Stainsby isn't who he seems to be either. He's hiding a motive for murder unknown to the police and may well be playing a deadly game of poker with the judicial process. What began as a simple trial rapidly turns into a complex search for the truth beyond the confines of the courtroom.
Meanwhile, Tess remains compromised by her association with London's most notorious advocate and must decide if she will continue her secret investigation into his conviction for murder.
'Vivid and exciting, and the novel raises some important issues to do with prisons and the ethics of the legal system' THE TIMES
The Cutting Edge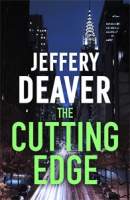 Jeffery Deaver
Rhyme and Amelia Sachs' latest case: catching a terrifying killer targeting couples...The happiest time of their lives - will be their last.
William and Anna went to collect her engagement ring. 1.5 carat, almost flawless. But the Promisor had other ideas for their future...
Their murder - and that of the diamond cutter they were visiting - is only the first of a series of macabre attacks. Someone is targeting couples just as they start their lives together. Lincoln Rhyme and Amelia Sachs, newly married themselves, are on the hunt.
But the killer is hunting down any witnesses who can help them. He has promised one thing: to destroy. Rhyme and Sachs will have to use all their own skills and determination to break his vow.
'If you want thrills, Deaver is your man' GUARDIAN
Popular Posts