Pre-order Photos Of You and be in to WIN!
Photos of You
Tammy Robinson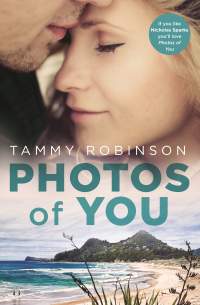 A compassionate, uplifting story about love for fans of Me Before You.
'People are here for me, to celebrate the anniversary of the day I was given life. On the very same day I'd just been told my life was all but over.'
When Ava Green turns twenty-eight, she discovers this will be her last birthday. The cancer she thought she'd beaten three years ago is back, only this time it's terminal. But she is not going to let the cancer define her last, precious months, she is going to make her childhood dream come true: her wedding.
With no groom, no money and very little time, Ava's friends and family rally around her and decide they will help her throw the wedding of her dreams, just without the actual vows. A mammoth organisation begins. As word spreads, people offer help. In an uncertain time, the whole country seizes the story of a woman whose dying wish is simple, and they unite to give her a wedding to remember. But when a photographer called James Gable arrives to document the whole event, it becomes painfully clear that it's never too late to discover the love of your life.

Photos of You is available from 11th December 2018. But pre-order your copy now and you could win an Instax Camera and film valued at $200!
You can pre-order Photos of You from any NZ or Australian retailer, but to make it easy for you, we've put some links below for you. Simply click the retailer name and place your order.
Already pre-ordered?
Complete the form below to be in to win!
1. Entry into this promotion is deemed acceptance of these Conditions of Entry. Only entries complying with all the Terms and Conditions are valid.
2. In order to be eligible to enter the 'Photos of You Competition', a participant must be a New Zealand or Australian resident, have pre-ordered Photos of You either in print or as an ebook (ISBN: 9781869713799 or 9781869713805) and must be over the age of 18 as at 17/08/18. The prize winner may be asked for proof of age.
3. Failure to supply all requested information at the time of submitting an entry might result on the entry being invalid.
4. No responsibility will be taken for late/lost/misdirected entries or incomplete entries. Entries will be deemed to be void if stolen, forged, mutilated or tampered with in any way.
5.The Promotional Period commences closes 11/12/2018. All entries must be received by close of business (5pm) on 11/12/2018. The prize will be drawn and the winner notified by no later than 14/12/2018. The winner will be notified by email with the email address provided in the first instance. Unsuccessful applicants will not be notified.
6.There will be one (1) prize composed of one (1) FujiFilm Instax Mini 9, valued at $169.00 and one (1) Fujifilm Instax Mini Film - 20 Pack valued at $39.00. Prices valid as at 17.08.2018. The prize is not transferable or exchangeable, and cannot be redeemed for cash
7. All entries become the property of Hachette New Zealand Ltd and following the draw will be destroyed in accordance with the Privacy Act 1993 unless entrant has opted in to receive updates on book information and promotion. Should the entrant 'opt in', the entrant's contact information will only be used to contact them for the promotional purposes agreed, and will not be shared with outside companies.
8.Hachette New Zealand Ltd (the 'Promoter') and its employees and their immediate families are ineligible to enter. The Promoter reserves the right to disqualify any person for tampering with the entry process. The Promoter of this competition is Hachette NZ Limited, Level 2, 23 O'Connell Street, Auckland 1010.
Close
Popular Posts