Apr 16
Roast tomatoes, fennel & chickpeas with preserved lemons & honey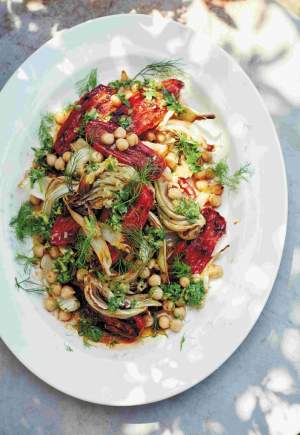 Serves 6
For the tomatoes
10 large plum tomatoes
1 tablespoon balsamic vinegar
1 1/2 tablespoons harissa
2 teaspoons caster sugar
sea salt flakes and freshly ground black pepper
For the fennel
2 large fennel bulbs
juice of 1/2 lemon
2 garlic cloves, crushed
1/2 teaspoon fennel seeds, coarsely crushed in a mortar
Generous pinch of chilli flakes
2 1/2 tablespoons extra virgin olive oil
400g can of chickpeas, drained and rinsed
For the dressing
2 small preserved lemons, plus
2 teaspoons juice from the jar
2 tablespoons white wine vinegar
1 1/2 tablespoons runny honey
5 tablespoons extra virgin olive oil
4 tablespoons chopped coriander
Method
Preheat the oven to 190°C.
Halve the tomatoes lengthways and lay in a single layer in a roasting tin or ovenproof dish. Mix the regular olive oil, balsamic vinegar and harissa and pour this over the tomatoes, tossing to coat well, then turn the tomatoes cut sides up. Sprinkle with the sugar and season.
Quarter the fennel bulbs, cut off the stalks and remove any coarse outer leaves. Pull off any tender fronds (reserve these) and cut each piece of fennel into 2.5cm- (1in-) thick wedges, keeping them intact at the base. Toss in a bowl with the lemon juice (it stops them discolouring). Add the garlic, fennel seeds, chilli and extra virgin olive oil, then season and turn everything over with your hands. Spread out the fennel in a second roasting tin and cover tightly with foil.
Put both trays in the oven. Roast the fennel for 25–30 minutes, until tender (the undersides should be pale gold), then remove the foil and roast for another 5–10 minutes, or until soft, golden and slightly charred. Roast the tomatoes for 35–40 minutes, or until caramelised in patches and slightly shrunken. Stir the chickpeas into the fennel and taste for seasoning. Leave both to cool to room temperature.
Now make the dressing. Discard the flesh from the preserved lemons and cut the rind into dice. Whisk the wine vinegar with the preserved lemon juice, honey and extra virgin olive oil, season and add the lemon rind and coriander. Taste for seasoning and sweet-sour balance.
Arrange the fennel, chickpeas and tomatoes on a platter, adding all the juices from the roasting tins; there might be quite a bit from the tomatoes. Scatter any fennel fronds you reserved over the top. Spoon on the dressing, or serve it on the side.
Popular Posts