Apr 11
The Girl Who Takes an Eye for an Eye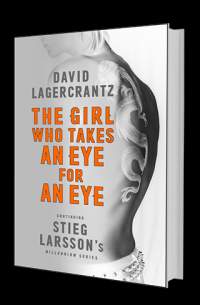 Today the title and cover for the fifth book in Stieg Larsson's Millennium series, which is written by the Swedish author David Lagercrantz, was revealed.

The novel will be called The Girl Who Takes an Eye for an Eye and is translated from the Swedish by George Goulding.
The text of the novel, now complete, is embargoed until its worldwide simultaneous publication on September 7, 2017.

The film of David Lagercrantz' previous novel in the series The Girl in the Spider's Web (Sony Columbia), is due for release on October 5 2018. Directed by Fede Alvarez, the director of 2016's breakout thriller Don't Breathe, it will feature an entirely new cast, with the search for the new Lisbeth Salander currently underway. Filming is due to begin in the spring.
David Lagercrantz is an acclaimed author and journalist. In his years on the Stockholm daily Expressen he covered many major crime stories. In 2015 The Girl in the Spider's Web, his continuation of Stieg Larsson's Millennium trilogy, became a worldwide bestseller, and it was announced that Lagercrantz would write two further novels in the series. He is also the author of the prize-winning and bestselling I am Zlatan Ibramhimovic, and Fall of Man in Wilmslow, a novel about the death of Alan Turing.

*Ends*
Media queries to:
Tania Mackenzie-Cooke
Senior Publicist, Hachette NZ
Email: tania.mackenzie-cooke@hachette.co.nz
Phone: 09 379 1486
Popular Posts