Apr 06
Top eBooks for Kids

We're over halfway through our national lockdown and if the kids are running out of activities to keep them busy, try eBooks.
Apple Books is available for Apple devices, and you can also download a Kindle app from your app store if you don't have a physical kindle.
Nature Stories, Enid Blyton (all ages)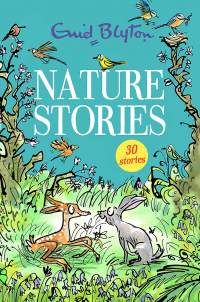 A collection of thirty wonderful stories about the nature and the countryside from one of the world's best-loved children's authors; perfect to enjoy all year round.
Enjoy the freedom length for bedtime or classroom story time. of the outdoors, the beauty of the countryside and the charm of all creatures great and small in this bumper short-story collection. Enid Blyton loved the countryside, animals and birds and she wrote many wonderful stories to teach children all about the natural world. Each story is perfect for reading aloud to young children and is the ideal.
The Tail of Emily Windsnap, Liz Kessler (ages 7+)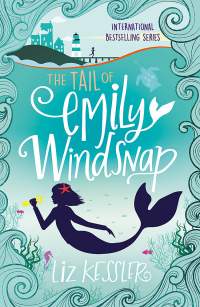 The girl next door has a secret . . . This is the first adventure in the NEW YORK TIMES bestselling series, packed with magic and friendship, now in a new edition with a gorgeous cover look.
Emily Windsnap lives on a boat, but her mother has always been oddly anxious to keep her out of the water. It is only when Emily has her first school swimming lesson that she discovers why: as soon as she gets into the water, she grows a tail!
Soon Emily discovers a glorious underwater world of fishes, coral, shipwrecks and mermaids, and, best of all, she finds a best friend! With mermaid Shona Silkfin by her side, Emily uncovers a surprising family secret and embarks on a quest to reunite her mum and dad.
This enchanting fantasy deals with universal themes of family, friendship, love and justice - all handled with the lightness of touch for which Liz Kessler is so well known.
Nevermoor, Jessica Townsend (ages 8+)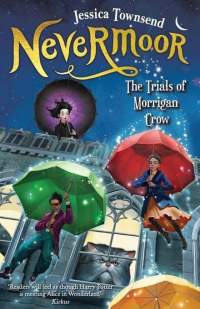 A breathtaking, enchanting new series by debut Australian author Jessica Townsend, about a cursed girl who escapes death and finds herself in a magical world - but is then tested beyond her wildest imagination.
Winner of the Dymocks and QBD Children's Book of the Year 2018 and a New York Times bestseller, Nevermoor: The Trials of Morrigan Crow is the first in an enchanting series for fans of Harry Potter and Neil Gaiman.
Morrigan Crow is cursed. Born on an unlucky day, she is blamed for all local misfortunes, from hailstorms to heart attacks - and, worst of all, the curse means that Morrigan is doomed to die at midnight on Eventide.
But as Morrigan awaits her fate, a strange and remarkable man named Jupiter North appears. Chased by black-smoke hounds and shadowy hunters on horseback, he whisks her away into the safety of a secret, magical city called Nevermoor.
It's there that Morrigan discovers Jupiter has chosen her to contend for a place in the city's most prestigious organisation: the Wundrous Society. In order to join, she must compete in four difficult and dangerous trials against hundreds of other children, each boasting an extraordinary talent that sets them apart. Except for Morrigan, who doesn't seem to have any special talent at all.
To stay in the safety of Nevermoor for good, Morrigan will need to find a way to pass the tests - or she'll have to leave the city to confront her deadly fate.
CHERUB: The Recruit, Robert Muchamore (ages 12+)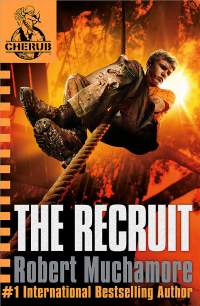 The first title in the number one bestselling CHERUB series! James hits rock bottom before he's offered a new start in an intriguing organisation ...
A terrorist doesn't let strangers in her flat because they might be undercover police or intelligence agents, but her children bring their mates home and they run all over the place. The terrorist doesn't know that one of these kids has bugged every room in her house, made copies of all her computer files and stolen her address book. The kid works for CHERUB.
CHERUB agents are aged between ten and seventeen. They live in the real world, slipping under adult radar and getting information that sends criminals and terrorists to jail.
For official purposes, these children do not exist.
Giraffe's Can't Dance, Giles Andreae and Guy Parker-Rees (ages 3+)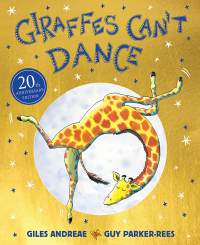 Gerald the giraffe longs to go to the great Jungle Dance, but how can he join in when he doesn't know how to tango or two-step? Everyone knows that giraffes can't dance ... or can they?
A funny, touching and triumphant story about being yourself and finding your own tune, GIRAFFES CAN'T DANCE has been a family favourite for 20 years.
Rabbit & Bear, Julian Gough (ages 5+)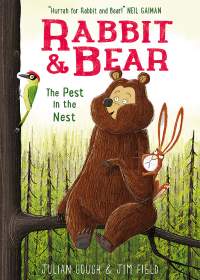 Gorgeously illustrated and with a classic feel, this is a brilliantly funny story of a rabbit and a bear who discover that things are always better when they're shared with a friend. Ideal for readers moving on from picture books. With 5 in the series, this is a favourite family go to.
'PEACE AND QUIET,' shouts Rabbit. 'THAT'S ALL I WANT'
Owch. He's hurt his own ears again.
What with Bear's snoring, and a BANG!BANG!BANG! noise from up in the tree, Rabbit knows that Something Simply Has To Be Done.
But high in the branches, perhaps Bear can show Rabbit how to see the world from a different place.
From novelist and playwright Julian Gough, and the winner of the Roald Dahl Funny Prize, Jim Field, this is a tale of friendship, wisdom, and how to be REALLY NOISY.
The Land of Stories, Chris Colfer (ages 8+)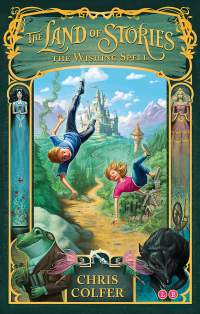 This fast-paced adventure series uniquely combines our modern day world with the enchanting realm of classic fairytales from author Chris Colfer, star of television's Glee.
Alex and Conner Bailey's world is about to change.
When the twins' grandmother gives them a treasured fairy-tale book, they have no idea they're about to enter a land beyond all imagining: the Land of Stories, where fairy tales are real.
But as Alex and Conner soon discover, the stories they know so well haven't ended in this magical land - Goldilocks is now a wanted fugitive, Red Riding Hood has her own kingdom, and Queen Cinderella is about to become a mother!
The twins know they must get back home somehow. But with the legendary Evil Queen hot on their trail, will they ever find the way.
The Land of Stories: The Wishing Spell brings readers on a thrilling quest filled with magic spells, laugh-out-loud humour and page-turning adventure.
Oi Frog!, Kes Gray & Jim Fields (ages 3+)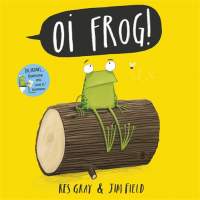 Jam-packed with the silliest of animals, this rhyming story will have the youngest of readers in fits of laughter.
Cats sit on mats, hares sit on chairs, mules sit on stools and gofers sit on sofas, but Frog does not want to sit on a log! Jam-packed with animals and silliness, this original rhyming story will have young children in fits of laughter.
Can't get enough? Look out for Oi Dog! and Oi Cat!, now available for purchase, and Oi Duck-billed Platypus!, coming out autumn 2018.
From the award-winning Kes Gray and the winner of the Roald Dahl Funny Prize, Jim Field, comes an hilarious rhyming tale about a frog who discovers that all animals have their special places to sit!
The Wizards of Once, Cressida Cowell (ages 8+)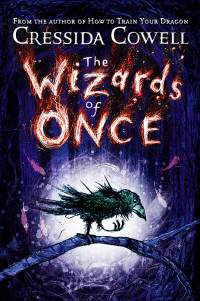 From the bestselling author of HOW TO TRAIN YOUR DRAGON comes an exciting high-adventure series - set in an ancient, magical time, full of Wizards, Warriors, Giants and Sprites.
#1 Sunday Times Bestseller Winner of the Blue Peter Book Award
This is the story of a young boy Wizard and a young girl Warrior who have been taught since birth to hate each other like poison; and the thrilling tale of what happens when their two worlds collide.
Perfect for boys and girls who love fantasy adventure...
Once there was Magic, and the Magic lived in the dark forests. Until the Warriors came...
Xar is a Wizard boy who has no Magic, and will do anything to get it. Wish is a Warrior girl, but she owns a banned Magical Object, and she will do anything to conceal it.
In this whirlwind adventure, Xar and Wish must forget their differences if they're going to make it to the dungeons at Warrior Fort.
Where something that has been sleeping for hundreds of years is stirring.
Hugless Douglas, David Melling (ages 5+)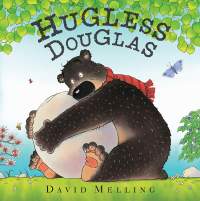 Ever feel like you need a really big bear hug?
Hugless Douglas in on a hunt for the perfect bear hug! Join him and see why this delightful cuddly tale has been entertaining families for ten years.
Hugless Douglas is a huggable, lovable young brown bear who wakes up one morning in need of a hug. He goes to try and find one but none of them seem quite right.
This is Hugless Douglas' first adventure is a must for fans of this much-loved series, which has sold over 1.6 million copies in 26 languages to date. David Melling is one of the best-loved author-illustrators and his stories combine brilliantly imaginative illustrations with an endearing sense of what it is like to be a small child learning about the world.
There's A House Inside My Mummy, Giles Andreae and Vanessa Cabban (ages 3+)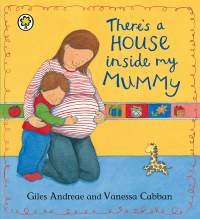 A funny and tender story about a little boy's wait for his new brother or sister.
There's a house inside my Mummy
Where my little brother grows,
or maybe it's my little sister
No-one really knows.
A gentle and tender story of a little boy waiting for his little brother or sister to arrive. Told with humour and a simple rhyming text, this is the perfect picture book for all expectant brothers and sisters!
Running On The Roof Of The World, Jess Butterworth (ages 10+)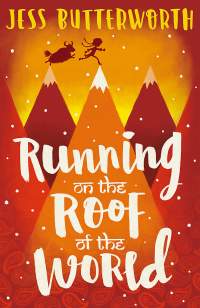 Join 12-year-old Tash and her best friend Sam in a story of adventure, survival and hope, set in the vivid Himalayan landscape of Tibet and India. Filled with friendship, love and courage, this young girl's thrilling journey to save her parents is an ideal read for children aged 9-12.
There are two words that are banned in Tibet. Two words that can get you locked in prison without a second thought. I watch the soldiers tramping away and call the words after them. 'Dalai Lama.'
Tash has to follow many rules to survive in Tibet, a country occupied by Chinese soldiers. But when a man sets himself on fire in protest and soldiers seize Tash's parents, she and her best friend Sam must break the rules. They are determined to escape Tibet - and seek the help of the Dalai Lama himself in India.
And so, with a backpack of Tash's father's mysterious papers and two trusty yaks by their side, their extraordinary journey across the mountains begins.
Popular Posts