May 11
Welcome to the World of Donovan Bixley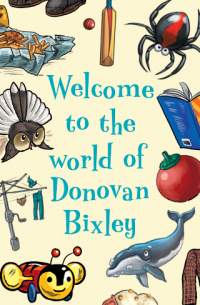 Get ready for some fun with these Donovan Bixley activity sheets!
Have a really keen eye? Try to spot the difference!
Do you know a budding artist? See how they do at drawing a dog.
Road trips are fun! How about designing a caravan to go on adventures in?
Cheet cheet cheet~! Pīwakawakas are fun to watch, but how about colouring one of your own?
Get all of the four activity sheets together here!
The Wheels on the Bus

"The wheels on the bus go round and round…"
Everyone knows the song. But now the bus is going around beautiful New Zealand and its passengers you just might know: kiwi, penguin, tuatara, fantail and many more. Come along for the ride!
Also available in te reo Māori as Ngā Wīra o Te Pahi.
Old MacDonald's Farm
"Old Macdonald had a farm — e-i-e-i-o…"
Everyone knows the song. But now the farm and animals are in New Zealand and old Macdonald has a Swanndri and gumboots. Donovan Bixley's illustrations depict the
beautiful New Zealand landscape — with farm animals!
Also available in te reo Māori as Te Pāmu O Koro Meketānara.
The Looky Book

The Looky Book is a puzzle book mostly for young children with 11 different puzzles all with colourful New Zealand landscapes, birds and animals.

Find the numbers with the crazy All Black lambs, spot the difference: the mischievous keas have changed around somebody's campervan, find the animals hidden deep in the bush, match the farmers to their animals.
My First Board Book: Colours

'Ma is white, whero is red.'
Learning colours is fun and interactive with this classic Kiwi tune with Maori vocabulary.
The iconic Kiwi song, Ma is White, is given the Donovan Bixley treatment and made into a wonderful first board book. The book also includes additional colours not covered in the song, so readers can can expand their Maori vocabulary.
My First Board Book: Animals

Learning animal names in English and Maori is fun and interactive with this vibrant book featuring species native to New Zealand.
Featuring cow (kau), horse (hoiho) and sheep (hipi), but also bat (pekapeka), gecko (moko papa) and morepork (ruru). Perfect for Kiwi kids.
Popular Posts