You could feature in Tom Wood's next book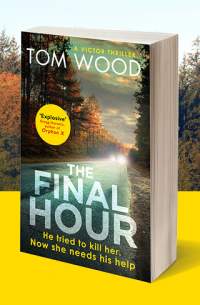 This is a unique opportunity to appear as a character in a bestselling author's book! The winner of this promotion could share their name with a hero, a villain or maybe even a pet - the possibilities are endless. While we're not sure what form your character will take, one thing's for sure, it's an opportunity like no other!
To be in to WIN this awesome prize, simply purchase The Final Hour and fill out the entry form below.
1.Entry into this promotion is deemed acceptance of these Conditions of Entry. Only entries complying with all the Terms and Conditions are valid.
2.In order to be eligible to enter the 'Feature in Tom Wood's next book' competition, a participant must be a New Zealand resident and must be over the age of 18 as at 27/06/17. The prize winner may be asked for proof of age.
3.The Promotional Period commences on 27/06/2017 and closes 30/09/2017. All entries must be received by close of business (5pm) on 30/09/2017. The prize will be drawn and the winner notified by no later than 06/10/2017. The winner will be notified by email with the email address provided in the first instance. Unsuccessful applicants will not be notified.
4.There will be one (1) prize composed of one (1) character named after the winner in Tom Wood's next book (book name TBC).
5.The winner will be asked to sign a waiver before the book is published. Should the winner not wish to sign the waiver, they forfit the prize and a new winner will be drawn.
6.All entries become the property of Hachette New Zealand Ltd and following the draw will be destroyed in accordance with the Privacy Act 1993 unless entrant has opted in to receive updates on book information and promotion. Should the entrant 'opt in', the entrant's contact information will only be used to contact them for the promotional purposes agreed, and will not be shared with outside companies.
7. Hachette New Zealand Ltd (the 'Promoter') and its employees and their immediate families are ineligible to enter. The Promoter reserves the right to disqualify any person for tampering with the entry process. The Promoter of this competition is Hachette NZ Limited, Level 2, 23 O'Connell Street, Auckland 1010.
Close
Find out more about The Final Hour
Agent Antonio Alvarez has been tracking a dangerous murderer for years, a nameless hitman responsible for numerous homicides. The Agency deflected him away from his search, but he didn't give up, piecing together clues and hearsay. Now a promotion has allowed him to pursue this man with a hand-picked team and bring him to justice. Only problem is, the murderer has vanished. Thousands of miles away, the assassin known as Victor has stopped working - recently he began to care; he made mistakes. Now he has a choice: whether to give up the life or return to being a cold-hearted weapon. But there's another killer who needs his help - and she might be harder to refuse . . .
All while the good guys are closing in on him.

The Final Hour is available now where all good books are sold.
Popular Posts