October Recommendations
Forty Autumns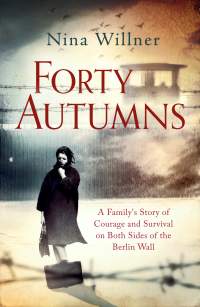 Nina Willner
When Nina's mother Hanna was just twenty years old, she escaped to West Germany with nothing more than a small satchel and the clothes on her back. It was the dawn of the Cold War. Hanna left her parents, siblings and everything she had ever known behind.
Forty Autumns traces the dramatic lives of the family on both sides of the Iron Curtain. Hanna eventually moved to America where she gave birth to Nina and her brother. Years after Hanna's brave escape to the West, Nina found herself working as an Army Intelligence officer in Berlin, leading secret operations just miles away from the family her mother left behind all those years ago.
Once the Berlin Wall came down, and the families were reunited, Nina Willner discovered an extraordinary story.
Rich in drama and beautifully evocative, Nina takes us deep into the tumultuous and stifling world of East Germany under Communist rule, revealing both the cruel reality her relatives endured and her own experiences as an intelligence officer.
Forty Autumns is an incredible story that perfectly captures what it was like to live in a world divided in two.
Perfect for fans of films The Lives of Others and Goodbye Lenin.
"Thoughtful and informative, Willner's book not only offers a personal view of the traumatic effects of German partition. It also celebrates the enduring resilience of the human spirit. A poignant and engrossing, occasionally harrowing, family memoir." - Kirkus Review
"Willner's depiction of the brutal East German regime and the fight of one family to unite is a thrilling and relevant read for historians and casual readers alike." - Publishers Weekly
Today Will Be Different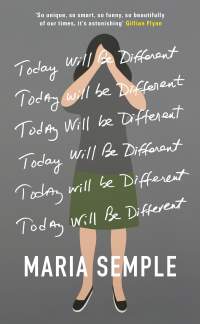 Maria Semple
Meet Eleanor Flood, who wakes up one day determined to be her best self.
Eleanor is going to clean up her act, only change into yoga clothes for yoga, which today she will actually attend, and be a better version of herself. But then, as it always does, life happens.
Eleanor's husband is missing, and their son, Timby, is wearing eye shadow to school and getting into fashion battles on the playground. (It's true that it's Eleanor's fault: She did put makeup in his Christmas stocking.)
Just when it seems like things can't get weirder or more in the way of Eleanor's personal transformation, a graphic memoir called The Flood Sisters surfaces, and the dramatic story it tells reveals long-buried secrets and a sister to whom Eleanor never speaks.
With all the artistic madness, genius plotting, and bold social observation that made Where'd You Go, Bernadette a hit, Today Will Be Different is a hilarious and heart filled day-in-the-life romp filtered through Maria Semple's brilliant eye.
Can't get enough of Maria Semple?
"So unique, so smart, so funny, so beautifully humane, so utterly of our times, it's astonishing" - Gillian Flynn, author of Gone Girl
"Few will be indifferent to this achingly funny and very dear book. This author is on her way to becoming a national treasure." - Kirkus Review
"A sharp, funny read" - Publishers Weekly
Watch her talk about Today Will Be Different in an interview.