September Titles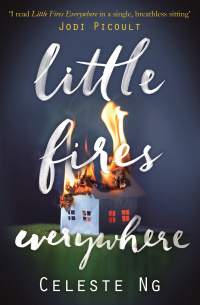 Little Fires Everywhere
Celeste Ng
Little Fires Everywhere explores the weight of long-held secrets and the ferocious pull of motherhood-and the danger of believing that planning and following the rules can avert disaster, or heartbreak.
Everyone in Shaker Heights was talking about it that summer: how Isabelle, the last of the Richardson children, had finally gone around the bend and burned the house down.
In Shaker Heights, a placid, progressive suburb of Cleveland, everything is meticulously planned - from the layout of the winding roads, to the colours of the houses, to the successful lives its residents will go on to lead. And no one embodies this spirit more than Elena Richardson, whose guiding principal is playing by the rules.
Enter Mia Warren - an enigmatic artist and single mother- who arrives in this idyllic bubble with her teenage daughter Pearl, and rents a house from the Richardsons. Soon Mia and Pearl become more than just tenants: all four Richardson children are drawn to the alluring mother-daughter pair. But Mia carries with her a mysterious past, and a disregard for the rules that threatens to upend this carefully ordered community.
When the Richardsons' friends attempt to adopt a Chinese-American baby, a custody battle erupts that dramatically divides the town and puts Mia and Mrs. Richardson on opposing sides. Suspicious of Mia and her motives, Mrs. Richardson becomes determined to uncover the secrets in Mia's past. But her obsession will come at unexpected and devastating costs to her own family - and Mia's.
"I read Little Fires Everywhere in a single, breathless sitting. With brilliance and beauty, Celeste Ng dissects a microcosm of American society just when we need to see it beneath the microscope: how do questions of race stack up against the comfort of privilege, and what role does that play in parenting? Is motherhood a bond forged by blood, or by love? And perhaps most importantly: do the faults of our past determine what we deserve in the future? Be ready to be wowed by Ng's writing - and unsettled by the mirror held up to one's own beliefs." - Jodi Picoult
"To say I love this book is an understatement. It's a deep psychological mystery about the power of motherhood, the intensity of teenage love, and the danger of perfection. It moved me to tears." - Reese Witherspoon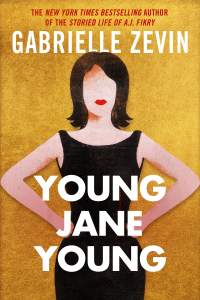 Young Jane Young
Gabrielle Zevin
The author of the international bestseller The Storied Life of A.J. Fikry returns with a witty, moving novel about what it means to be a woman - especially in the Google age where no secret is safe for long.
Aviva Grossman, an ambitious Congressional intern in Florida, makes the life-changing mistake of having an affair with her boss - who is beloved, admired, successful, and very married - and blogging about it. When the affair comes to light, the Congressman doesn't take the fall, but Aviva does, and her life is over before it hardly begins. She becomes a late-night talk show punchline; she is slut-shamed, labelled as fat and ugly, and considered a blight on politics in general.
How does one go on after this? In Aviva's case, she sees no way out but to change her name and move to a remote town in Maine. She starts over as a wedding planner, tries to be smarter about her life, and to raise her daughter to be strong and confident.
But when, at the urging of others, she decides to run for public office herself, that long-ago mistake trails her via the Internet like a scarlet A. These days, Google guarantees that the past is never, ever, truly past, that everything you've done will live on for everyone to know about for all eternity. And it's only a matter of time until Aviva/Jane's daughter, Ruby, finds out who her mother was, and is, and must decide whether she can still respect her.
" It's brilliant and hilarious, and it makes you wince in recognition - for the double-standard that relegates scandalized women to a life of shame even as their married lovers continue with their careers (and often their marriages), for the insatiable appetite we have for every last detail, for the ease and speed with which we stop seeing people as multilayered humans...The five main characters are among my favorite of any recent novel I've read" - Chicago Tribune