Gavin Thurston at Auckland Museum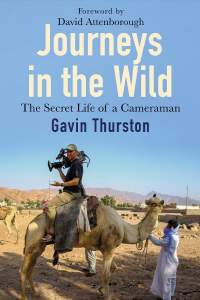 Join Gavin Thurston, the award-winning cameraman of David Attenborough's series, Blue Planet II and Planet Earth II, as he shares his extraordinary and adventurous true stories of tracking and filming our planet's most captivating creatures.
Following this fascinating talk, copies of his new book, Journeys In the Wild, will be available for purchase and signing.
Gavin Thurston is an award-winning cameraman specialising in wildlife. He has worked on 17 of Sir David Attenborough's series and has travelled and filmed on all seven continents and at both North and South poles.
Recently, whilst filming for Blue Planet II he was in the submersible that set the world record for deepest dive in Antarctica. He has survived charging elephants, being hunted by lions, close encounters with a grizzly bear mum, wild wolves, plane crashes, civil wars, and coups. And once, whilst filming for a BBC special on Gorillas, he was slapped by a silverback.
Gavin has won numerous awards including 5 EMMYs, 3 BAFTAs and a Royal Humane Society Award for Bravery.
SUN 2 FEB, 7PM - 8.15PM
DOORS OPEN AT 6.30PM
$15 - $25
This event is now sold out.
About Journeys In The Wild
From Gavin Thurston, the award-winning Blue Planet II and Planet Earth II cameraman with a foreword by Sir David Attenborough comes extraordinary and adventurous true stories of what it takes to track down and film our planet's most captivating creatures.
Gavin has been a wildlife photographer for over thirty years. Against a backdrop of modern world history, he's lurked in the shadows of some of the world's remotest places in order to capture footage of the animal kingdom's finest: prides of lions, silverback gorillas, capuchin monkeys, brown bears, grey whales, penguins, mosquitoes - you name it he's filmed it.
From journeys to the deepest depths of the Antarctic Ocean and the wide expanse of the Saharan deserts, to the peaks of the Himalayas and the wild forests of the Congo, Gavin's experiences describe much more than just the incredible array of animals he's filmed. He invites you to come inside the cameraman's hidden world and discover the hours spent patiently waiting for the protagonists to appear; the inevitable dangers in the wings and the challenges faced and overcome; and the heart-warming, life-affirming moments the cameras miss as well as capture.
Buy your copy here.
Popular Posts