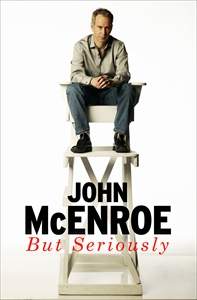 Download 300dpi cover ↓
But Seriously
An Autobiography
Over a decade after number one bestselling book SERIOUS, John McEnroe is finally back and ready to talk once again.
Since his hit book, he's maintained a huge presence announcing at tennis's majors, has guest starred in TV shows like
30 ROCK
and
CURB YOUR ENTHUSIASM
, and has been competing on the court, winning ATP Tour of Champions and playing in special events, exhibitions and charity events around the globe. The beloved, controversial and respected tennis legend reveals even more from his life and career with the signature style that has made him the enduring cultural figure and icon he is.
ISBN: 9781409147961
Author: John McEnroe
Availability: In Stock
Pub date: 27.06.17
RRP: $37.99
Format: Paperback / softback