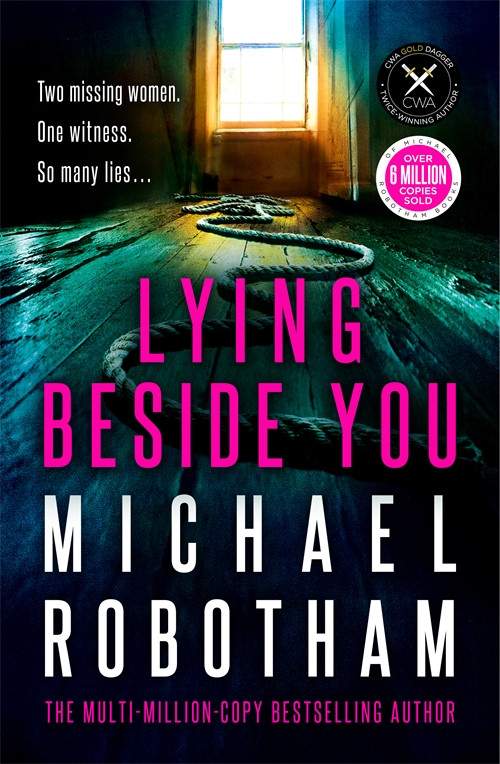 Download 300dpi cover ↓
Lying Beside You
Paperback / softback
TWO MISSING WOMEN. ONE WITNESS. SO MANY LIES . . . The brand-new thriller by the number-one bestselling and award-winning master of crime
Twenty years ago, Cyrus Haven's family was murdered. Only he and his brother survived. Cyrus because he hid. Elias because he was the killer.Now Elias is being released from a secure psychiatric hospital and Cyrus, a forensic psychologist, must decide if he can forgive the man who destroyed his childhood.As he prepares for the homecoming, Cyrus is called to a crime scene in Nottingham. A man is dead and his daughter, Maya, is missing. Then a second woman is abducted . . . The only witness is Evie Cormac, a troubled teenager with an incredible gift: she can tell when you are lying.Both missing women have dark secrets that Cyrus must unravel to find them - and he and Evie know better than anybody how the past can come back to haunt you . . .This breathtaking new thriller from the #1 bestselling author will keep you guessing until the very end.Praise for
Lying Beside You:
'Flawless. Further proof that Michael Robotham is one of the most accomplished thriller writers in the world. It's superbly paced, intricately plotted and packed with characters that leap off the page. Simply sensational'
M.W. CRAVEN
'Compulsively readable. As always, Michael Robotham builds his nail-biter around damaged people who only want to do what's right'
LINWOOD BARCLAY
'Exactly the sort of thriller that pins you to your seat until you've finished it: a proper heart-pounding mystery with unforgettable characters and compelling twists'
JANE CASEY
'Masterful . . . With its intriguing characters, perfectly interwoven storylines and killer twists, Robotham's latest thriller lives up to his fans' sky-high expectations. His best yet'
ROSE CARLYLE
'A fantastic read - pacy, spare and engrossing'
AJAY CHOWDHURY
'Michael Robotham is such a wonderfully perceptive writer; rich, real characters who are constantly surprising . . . I could read about these two forever'
ALEX MARWOOD
'Michael Robotham does not put a foot wrong. Every single book is a plotting masterclass'
ANNA DOWNES
Praise for Michael Robotham:'One of crime's smartest practitioners'
The Australian Women's Weekly
'Robotham renders the ordinary extraordinary'
Sydney Morning Herald
'Superior writing, clever plotting and credible characters'
Canberra Weekly
Buy now!
Checking availability in shops
RRP: $36.99
Format: Paperback / softback