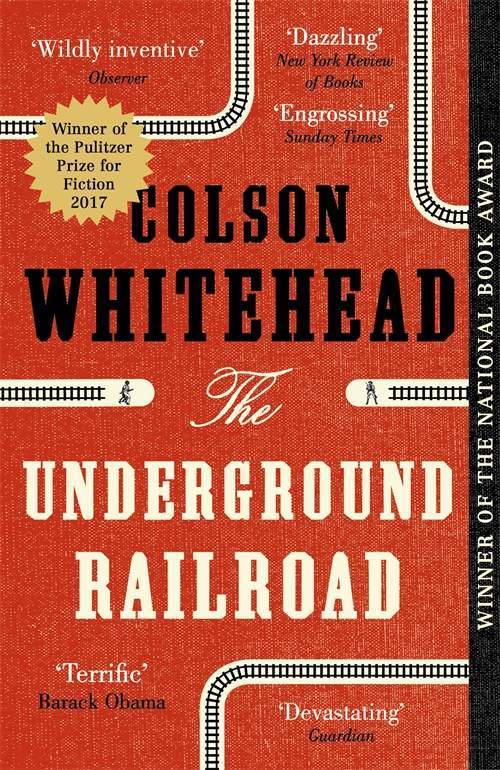 Download 300dpi cover ↓
The Underground Railroad
Winner of the Pulitzer Prize for Fiction 2017
WINNER OF THE PULITZER PRIZE FOR FICTION 2017
WINNER OF THE ARTHUR C. CLARKE AWARD 2017LONGLISTED FOR THE MAN BOOKER PRIZE 2017NATIONAL BOOK AWARD WINNER 2016AMAZON.COM #1 BOOK OF THE YEAR 2016#1 NEW YORK TIMES BESTSELLER AND A NEW YORK TIMES BOOK OF THE YEAR 'Whitehead is on a roll: the reviews have been sublime' Guardian'Luminous, furious, wildly inventive' Observer'Hands down one of the best, if not the best, book I've read this year' Stylist 'Dazzling' New York Review of Books
Praised by Barack Obama and an Oprah Book Club Pick,
THE UNDERGROUND RAILROAD
by Colson Whitehead won the National Book Award 2016 and the Pulitzer Prize for Fiction 2017.Cora is a slave on a cotton plantation in Georgia. All the slaves lead a hellish existence, but Cora has it worse than most; she is an outcast even among her fellow Africans and she is approaching womanhood, where it is clear even greater pain awaits. When Caesar, a slave recently arrived from Virginia, tells her about the Underground Railroad, they take the perilous decision to escape to the North.In Whitehead's razor-sharp imagining of the antebellum South, the Underground Railroad has assumed a physical form: a
Buy now!
Checking availability in shops
Pub date: 18.04.17
RRP: $24.99
Format: Paperback / softback