5 Minutes with...Esther Krogdahl
Share this page: Facebook LinkedIn Twitter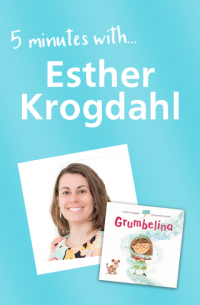 Esther Krogdahl introduces us to her debut picture book, Grumbelina. Read below to find out the inspiration behind Grumbelina and more!
What is your book Grumbelina about?
Grumbelina is about a little girl who begins to have some big emotions at three-and-a-half. The mild-mannered Hazel transforms into Grumbelina - a threenager who makes outrageous and hilarious demands of her patient yet weary parents.
Where were you when the idea for Grumbelina hit?
I was living in Christchurch NZ - Lyttelton with my toddler daughter and husband, without family around. After a particularly tough week with my daughter making crazy demands, being upset by almost everything and requiring my husband and I to be mind-readers, I was inspired to sit down and write, Grumbelina so I could see the lighter side of the situation. I wrote Grumbelina in a cafe in Lyttelton.
Do you have a specific routine when writing your books?
I always write at a cafe with breakfast and coffee. Noise doesn't bother me, but I can't be at home when I write, else I get distracted by hanging out the washing or doing the dishes. Aside from that, I don't have a specific writing routine. I usually just sit down and start writing. Usually I'll write a story in one sitting, but it will need many tweaks and iterations before I'm happy with it.
What is the best thing about writing Kids' books? What is the hardest?
The best thing is, the time needed to write childrens books is much less than that needed to write a novel (obviously). So you get a feeling of accomplishment soon after you start. Also, because I have a young daughter, I am often inspired by her to write stories I know she will like, which is fun. Nothing is off limits in terms of your imagination.
The hardest thing is, there is a lot of competition out there and many children's topics and themes have been done to death, so you need to think outside of the box. That is hard but fun too!
What did you enjoy reading as a kid/teenager?
I remember reading a lot of Ronald Dahl. In terms of picture books, I don't have too many memories but do recall being read The Very Hungry Caterpillar and Winnie the Pooh stories.
When did you know you wanted to be a writer?
I've always been a storyteller and when I was quite young I used to love writing poetry. At high school I was good at English but was not particularly encouraged by teachers to look at writing as a career. Instead I did a Computer Science degree and labelled myself as more of a "science" person than a "creative" one. It was only when I was in a job I really didn't enjoy (because it wasn't at all challenging), that I started to use my spare time to write stories. In 2010 I had a crazy dream and started writing it down. That ended up becoming a novel I wrote over the next 2 years, Ruthless. It was only really when I started sharing that work with friends and family that I was encouraged to think about writing more seriously. So that's what I did.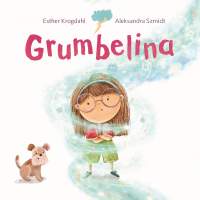 Categories
Recent Articles